First Novel: A Decade in the Making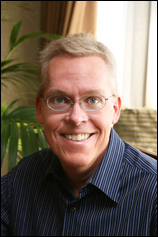 Joseph Bentz took more than ten years to write his first novel, which was about nine years longer than he expected it to take. He said, "At first, I thought I would be able to wrap up this book in a year or so since the ideas had been floating around in my head for a long time. It was a fantasy novel set in an exotic world with a group of characters I thought I knew intimately. I got off to a good start, but then things got out of control."
By "out of control," Bentz means that the story kept growing in unexpected directions until seven years later he had amassed a manuscript that exceeded 1,200 pages. "It was unpublishable," he admits. "Nobody had ever taught me how to write a novel. I had let the story wander wherever it wanted to. It was too long and sprawling, but I still had no doubt there was a book in there. So I started revising."
He started from scratch in the second draft of the novel, using his 1,200-page manuscript as raw material. He felt embarrassed by how long the process was taking him, and he kept quiet about what he was doing. "I let very few people know I was writing a novel," he says. "I kept quiet for two reasons. First, I wanted to avoid that most annoying question, 'Aren't you finished with that yet?', and second, I figured that if all those horrible statistics in the writers marketing guides were right and I never found a publisher, I wouldn't have to explain my failure."
Bentz was also busy with other projects at the time–going to graduate school, teaching college, writing freelance magazine articles–and writing his book was his one piece of work not subject to the expectations of others. "I wanted this book to be the one piece of writing that I composed exactly the way I wanted to–no deadline, no assignment, no editor, no boss, no committee to please." He took two more years to write a second draft ("Lightning-fast for me!" he says), and another year to finish a third draft. The manuscript was now a relatively slender 650 pages, and he was ready to send it out.
It took another year and seven rejections before the editors at Thomas Nelson Publishers finally offered a contract. In the fall of 1995, Song of Fire was published. "Some of my friends questioned whether such a grueling process was worth it," said Bentz, "but even before I had the thrill of walking into a bookstore and seeing that novel sitting on the shelf, I was already working on book number two."
Starting From Scratch–Again
His second novel, a contemporary realistic novel set in Indiana, was nothing like the elaborate fantasy of Song of Fire. "The experts say that the smart thing for an author to do is to keep writing the same type of book so that you build up a base of readers who know what to expect, but I have always felt driven to write whatever book was in me at the time," said Bentz.
If the second book, A Son Comes Home, shared any similarity to Song of Fire, it was that the writing of it did not come easily. He knew he wanted to write about a troubled family–a father and his grown daughters–but he was less sure about the exact contours of the plot. In the first draft he let the ideas carry him wherever they wanted to go, and the result was a rather sensationalistic plot, filled with buildings blowing up and a multimillionaire corporate executive trying to keep his violent daughter out of jail.
"I tried to make it work," said Bentz. "I researched the lifestyles of wealthy executives. I researched the various political issues that played a part in the book. At the end of a summer of hard work on this draft, I sat down and read the 200 pages I had produced. I didn't believe a word of it. I knew I would have to discard this and start from scratch. When I told my wife, she cried. She had seen me go upstairs every day and work on that book, and it broke her heart to think that I would have to abandon it all. But if a book is on the wrong track, the best thing to do is to stop where you are and get it back on the right track."
The right track, as it turned out, was buried deep within those abandoned 200 pages. "Even though most of the manuscript wasn't working, the parts that struck me as most authentic were those that were closest to the people and places I had known. I decided to start again with those people and places and see what happened."
What happened was A Son Comes Home, set in Indiana, where Bentz grew up, and featuring characters like those he had known all his life. Gone were the bombs and the rich executives. In its place was the middle-class LaRue family–the parents Jack and Helen, dealing with grief over the loss of their son David two years earlier; Chris, their son who is returning home after fleeing the family conflict that had erupted in the aftermath of David's tragic loss; and Robin, the young daughter who has become pregnant by her con-artist boyfriend Bobby.
Now that he was working in more familiar territory, Bentz found his voice, and his research was much closer to home. "Jack, the father in that book, restores antique cars, which I know nothing about, so I asked my dad, who is also an old car fan and has restored an antique car, to write to me about every car he had owned and the memories he associated with them. He did that, and the stories he told helped me get in touch with Jack. The plot of the book is entirely made up, and even the characters are different in significant ways from their real-life counterparts, but the world of that book easily became real to me."
Just as with all his other experiences in publishing, Bentz took a long time to find a publisher for this book. But after a year, Bethany House Publishers offered a contract for A Son Comes Home, and the editors liked the book so much that they offered a contract for two more unwritten novels as well.
Creating Cradle of Dreams and At Close of Day
Bentz's third book, Cradle of Dreams, also relies heavily on autobiographical material, chronicling a couple's struggles with infertility and adoption. Following that book in 2001, Bentz wrote At Close of Day, a novel that continues his interest in the way families communicate (and fail to communicate), the secrets that are often deeply embedded in families, and the ways that the past creeps into the relationships of the present. In this novel he returned to the technique of telling the story through the eyes of alternating first-person narrators, which he had also used in A Son Comes Home. "Telling the story in the voices of the alternating narrators is my favorite technique," said Bentz, "especially when I'm writing about families. As anyone who has relatives knows, the story changes depending on who is telling it. With multiple narrators, I'm able to capture those differing perceptions among the family members, and then readers can decide for themselves which character comes closest to telling the truth."
Although Bentz's first four books were novels, one non-fiction idea kept pursuing him so intently that he finally gave in and wrote When God Takes Too Long: Learning to Thrive During Life's Delays. The book sprang from his own bewilderment at God's often unusual timing. "One of my greatest frustrations as a Christian is that I am always waiting on God to act. I wrote this book to better understand how God uses "waiting" in our lives. I read the entire Bible with this issue in mind, and I was amazed at how crucial waiting was in the lives of such biblical figures as Moses, Joseph, Abraham, David, Jeremiah, Paul and others. From their stories, key principles emerge about how God's timing and methods differ from our own. I wrote this book to examine those principles and to help readers transform this frustration into a positive force in their lives."
In 2009, Beacon Hill Press released a When God Takes Too Long: DVD and Book package that is ideal for use in small groups. The box includes a copy of the book and a DVD that contains six video lessons that introduce various chapters of the book. It also contains a printable Leaders Guide containing questions and other activitiesfor groups to use.
2007 Books–Silent God and A Son Comes Home (Again)
For two other books, both published in 2007, Bentz did not have to choose between fiction and non-fiction–he was able to do one of each. One of his earlier novels, A Son Comes Home, was republished in a new edition by Randall House Publications. The novel, which has been adopted as a text in a number of college literature courses, was targeted toward this academic market and was also made available to a more general audience.
Silent God: Finding Him When You Can't Hear His Voice, sprang from Bentz's desire to better understand those painful and bewildering times in a Christian's life when God's presence feels distant and the believer's spiritual life has gone cold. What are the noises that drown out God's voice, and how can they be quieted? What may God be accomplishing in the life of the believer during those times of silence?
Searching for the Tipping Points: The Writing of God in Pursuit
Bentz says that his 2010 book, God in Pursuit: The Tipping Points from Doubt to Faith, was one of the most difficult books he ever wrote, but also one of the most inspiring to research. "It was hard because in order to discover the tipping points that allow people to move toward faith in Jesus Christ, I had to read dozens of spiritual memoirs published over hundreds of years, and I also interviewed many people to hear about their own faith journeys. Every day I was amazed to see the surprising ways God gets hold of people. My temptation was to get lost in the stories and forget that I had to bring this all together somehow to write a book about it. Even if I had never written a word, the experience would have been worth it to hear and read all those great stories of people's transformation in God's hands."
Pieces of Heaven and Nothing is Wasted
Bentz's 2012 book, Pieces of Heaven: Recognizing the Presence of God, was prompted by his impression that although God's presence permeates the world in nature, music, relationships, Scripture and elsewhere, most people either ignore God entirely or associate his presence only with a very narrow set of circumstances, such as a church service. Pieces of Heaven seeks to awaken readers' awareness to the many places that God's presence may be found.

Nothing is Wasted, published in 2016, focuses on another reality that people often ignore, redemption. Bentz believes that in a world marred by injustice and pain, God has also sprinkled hints of redemption in unexpected places, from tragic circumstances to the carcass of a whale. A greater awareness of those redemptive hints can bring hope and meaning to even the most difficult moments of life.
Personal and Professional Background
Besides writing, one of Joseph Bentz other passions is teaching, which he does at Azusa Pacific University in Southern California. A professor of English, Bentz teaches courses in writing and American literature. He earned a B.A. in English from Olivet Nazarene University and an M.A. and Ph.D. in American literature from Purdue University.
One of Bentz's favorite subjects of scholarly work is the novelist Thomas Wolfe, who lived from 1900-1938 and wrote Look Homeward, Angel, You Can't Go Home Again, more than 50 short stories, and a number of other works of fiction. Bentz has published a number of scholarly articles on Wolfe and is the Articles Editor for The Thomas Wolfe Review, a scholarly journal devoted to Wolfe studies. Bentz has spoken at numerous writers conferences and is a regular book reviewer for CBA Retailers + Resources magazine. His articles have also appeared in numerous other magazines, newspapers, and scholarly journals.
Bentz grew up in Indianapolis. After college, he moved to Illinois, where he taught for five years at Olivet Nazarene University.