What one thing would most improve your life? More money? Better health? More sleep? A dog? Two brains? More motivation? More exercise? More time? Better relationships?
Those were among the answers I received to this week's question. Other people focused on things they would like to delete from their lives rather than on anything they might add.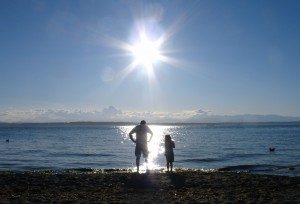 They wanted to get rid of stress, eliminate self-criticism, or abolish peach-flavored yogurt (see below).
I invite you to read the Best Five Answers to this week's question, and please take a moment to answer the new question at the end.
If you could improve your life in one way, what would it be?
5. "If I could improve my life in one way it would be the elimination of the peach flavor from the Yoplait Yogurt variety pack at Costco. I have a stack of that damn peach flavor in the back of my fridge. I can't get a new box until I finish them, and I just can't stand the sight of them."
–Joey Smith
4. "You know, this is a question I find myself pondering every now and then, particularly when I'm having a bad day for whatever reason. And every time I do I put together a mental list of things that I think might somehow make my life better. And yet I always end up reaching the same ultimate conclusion: I've got a family that loves me, I grew up to have the career I wanted ever since I was a kid, I've got friends who accept me for who I am, I've got a roof over my head and I'm able to pay the bills (late sometimes, sure, but they do get paid). So really, what is there to improve?"
–John Small
3. "To re-engineer this 53-year-old body to an 18-years-of-age body and take it back through the fun times I had to get it to the shape it's in today."
–Terry J. Robichaud
2. "Only do the things where I add the most value, and delegate the rest!"
–Bruce W. Martin
1. "Let go, stop worrying, and finally accept that this is only a journey to our final home."
–Jerry Vachon
Please answer next week's question in the comments section:
Would Jesus use Facebook?