Most poets are thrilled when one of their books of poems is published, but Katie Manning, an outstanding poet who also teaches in the English Department at Azusa Pacific University, gets to experience that joy three times this year, as three of her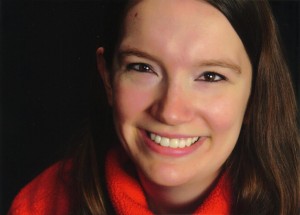 chapbooks are being published by three different publishers. This success did not come easily. She has been sending out manuscripts for more than five years, so it is a happy coincidence that all three books are now coming out within months of each other. To celebrate these publications and to introduce readers to Katie Manning's poetry, I am happy to interview her for the Life of the Mind and Soul.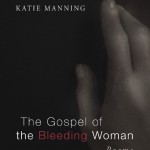 1. Congratulations, Katie, on your poetry chapbooks that are being published this year. I have read some of your poems and have appreciated not only their depth, but also their warmth. I would like to start with The Gospel of the Bleeding Woman, published by Point Loma Press, through Wipf and Stock Publishers. This book follows the unnamed bleeding woman from three of the gospel accounts in the Bible. You give her a name and let her tell her own story. Why did you choose this particular story for your book?
Thank you for taking the time to read my poems, and thank you for your very kind words. I have been curious about the bleeding woman since I was a little girl. What was her name? Why was she bleeding? What was her life like when she was ritually unclean for 12 years? What was her life like after she was healed? Her story is so brief. It is really just a quick aside; in all three accounts, Jesus is on his way to heal a synagogue leader's daughter. The bleeding woman interrupts Jesus. She reaches out and touches him when she shouldn't, and she's rewarded for having faith. The more I thought about her, the more I became fascinated by the idea that reaching out in a final act of desperation can be a demonstration of faith.
2. How challenging was it to enter into a woman's story when so few details about her are given in the Bible? Did that lack of detail give you more freedom to shape the story the way you wanted to, or did it make your job as a poet more difficult?
Although it was initially difficult to imagine a life for this woman, I think the lack of detail ultimately gave me more creative freedom. I read commentaries of all sorts to give me a better grounding in the possibilities of her life, but then I set those things aside and wrote freely. Many commentaries talk about the bleeding woman as though she was elderly, but I enjoyed imagining her as a young woman who had begun bleeding in early adolescence and never stopped. This choice was partially because of the way Jesus calls her "daughter," which has always sounded to me like she is younger and somewhat identified with the girl whom Jesus is traveling to see, and partially because I was writing this in my mid-twenties and felt closely connected to her. I also felt free to get very, very strange after her healing and let her travel outside of her original time and place.
3. Could you give us a sample poem from this book and tell us a little about it?
The final poem in this collection is one of my very favorites. (Is it okay to pick a favorite poem? Is that like picking a favorite child?) The bleeding woman, who I've named Nura ("light"), ends up eating lunch with Jesus at a café in present day New York City. While I was completing this chapbook, I read Quarantine, a disturbing and beautiful book of poetry by Brian Henry, and I echo a couple of his lines in the title and text of my poem.
Where Death Is Not an Is
          after Brian Henry
I met Jesus the next day
at the Life Café. "Call me
J now," he said. "People
lock me up when I say
I am God." He pulled
back his sleeves to show
the marks on his arms
from recent shots. I asked
what I could do. "Just lie
low," he said between
bites of falafel. "Dead
is the way the world wants
us. People hate to feel
alive." We ate in silence
for a while. Then I asked,
"What happens to us?"
He wiped his young hands
and stood to leave. "We are
finished," and kissed my cheek.
I put my hand on his arm
and told him the scars would be
beautiful when they healed.
4. Where can readers find this book?
The Gospel of the Bleeding Woman is now available on Amazon and through Wipf and Stock.
5. You also have two other books coming out this year. Tea with Ezra is published by Boneset Books and I Awake in My Womb is forthcoming from Yellow Flag Press. How can readers order these books?
I Awake in My Womb is available for pre-order from Yellow Flag Press. The first edition is due out in August, and the second edition will follow immediately.
Tea with Ezra was published in a limited edition by a brand new micro-press, and it was done with a hand-sewn binding. The book itself is a lovely piece of handmade art. It sold out in pre-order, but Boneset Books is planning to do a second edition in the future.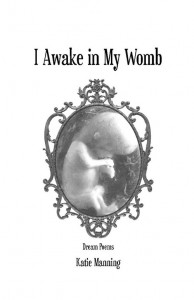 6. I love your poems about motherhood. Could you give us a sample from I Awake in My Womb?
I'm glad you enjoy them! These poems are based directly on vivid dreams that I had
immediately before, during, and after pregnancy. They are some mix of funny, terrifying, and revealing; they give readers a surreal glimpse into the fear and wonder of impending motherhood. The following poem's first line became the collection title.
The Outside In
I awake in my womb.
I'm cradling you
so gently, so
as not to break
your see-through skin.
You are half
head, half
body. Your eyes are sealed
shut, but through the cloudy dark
your heart blinks
visibly. I wonder
if it loves me yet.
I hold you close to my face
with both hands
(though you're smaller than one)
and watch.
We breathe fluid together.
I press
my ear to your chest.
Your heart gallops away.
7. I am intrigued by the title of your book, Tea with Ezra. What does that title refer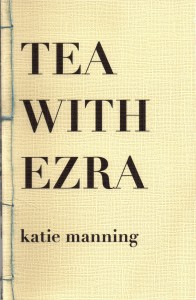 to? Could you share a poem from that book?
This chapbook contains poems that respond to familiar texts: fairy tales, biblical narratives, poems, songs, novels, etc. The title of the collection is taken from the final poem. Ezra Pound has a poem called "The Tea Shop," in which he observes that a waitress is not as pretty as she used to be, and he repeats twice that "she also will turn middle-aged." I felt immediately angry the first time I read this poem because of Pound's objectification of the waitress. I like to express my anger through humor, so I wrote a parody of his poem. In my poem, I have tea with Ezra Pound, and I am critical of his appearance and his work. When he tells me that I'll also turn middle-aged, I take my revenge.
Tea with Ezra
                  after Pound's "The Tea Shop"
He told me that only he and Whitman
had gained immortality,
and he took a bite of his lemon pound cake.
I reminded him that he'd already been dead
thirty years. I tried not to stare through
his decaying jaw at the jostled pastry.
He looked me up and down and said,
"Yes, you also will turn middle-aged."
I simply shut his book
and drank his tea when I'd finished mine.
8. Thank you for giving us a look at your poetry. If readers would like to find out more about you and your poetry, do you have a website or Facebook page they can follow?
I do have a website and an author page on Facebook.
Thanks for your interest in my poetry!