This week I am happy to host an interview with my friend and fellow writer, Karen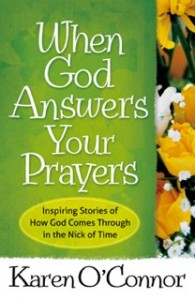 O'Connor. Her newest book is When God Answers Your Prayers: Inspiring Stories of How God Comes Through in the Nick of Time. I had the privilege of contributing two of my own answers to prayer for this book. Karen wrote about my stories in the chapters called "Dream Job" and "Wanted: Your Book." The book is encouraging and enjoyable. I highly recommend it!
Book Giveaway
Karen is giving away two copies of When God Answers Your Prayers. To enter the drawing for a book, just leave a comment at the end of this post. The deadline is Saturday, April 6.
Interview with Karen O'Connor
1. Congratulations on your new book! What is one thing you hope readers will take away from When God Answers Your Prayers?
I hope readers will hang in there with God—even when waiting for his answer can be agonizing. God does some through—in his time and in his way for the good of all concerned. I learned that the hard way!
2. There are many books on prayer, but your subtitle, "Inspiring Stories of How God Comes Through in the Nick of Time," gives a hint of what sets your book apart. Can you tell us more about the "nick of time" aspect of your book?
Yes, I have a good example of that. My husband and I planned a move from Southern California to Central Coast California to be closer to our youngest daughter and her family. We bought a new home in a quiet new neighborhood, expecting to sell our beautiful condo by the San Diego Bay in a matter of weeks. The sale did not happen in a few weeks or
even in a few months. We came to the point of facing two mortgages. Then when it appeared we'd soon exhaust our financial reserve, my husband's daughter bid on the condo and purchased it. Escrow closed 'in the nick of time' before we ran out of money. I later realized that when I pray it's not always just about me and what I want. Other people and other circumstances are involved—as was the case with the sale of our home in San Diego. But God did come through—as he always does––and then my prayers turned to praise.
3. When God Answers Your Prayers is based on stories from many different people. How many people contributed stories to your book? As a writer, is it hard to handle so many contributors?
The book includes thirty stories from other people, (including two of yours, Joe!), some of my own, and some from the Bible. I invited people to answer a set of questions—and provided them with sample responses so they would stay on track. Most of the folks are not writers so this method made it easy for them and for me. I then wrote up the individual stories based on answers to my questions. I found the process pretty seamless, though it took several months to finish the book.
4. Your book focuses on answers to prayer, but what would you say to readers who are disappointed that God has not answered their prayers?
Great question. I tend to believe that God always answers prayers in some way—although we may not see the outcome as an answer—at least right away. For example, my first husband and I divorced after twenty years of marriage. I was devastated and cried out to God again and again over many years. But still my husband left for another woman and they are still together. I felt God had left me in the ditch! But he didn't. God used that experience to 'clean my spiritual house,' to draw me to Christ in a personal relationship, and to show me how I had made my husband a 'god' in my life. Then after a season of healing, I met my current husband and we've established a new home together with Jesus as the head. I consider all this an answer to prayer—over time but in the nick of time too!
5. How did this book change your own prayer life?
I'm now at peace when I pray. I give my situation over to God and let go of it. That doesn't mean I'm never anxious or concerned. I'm human. But I now pray from a place of trust, knowing God will bring about the outcome that is best for me. He never disappoints.
6. Are there one or two stories that stand out to you as particularly memorable examples of answers to prayer?
YES! Your story ("Dream Job") of how you got your professorship at APU is one of them. What a suspenseful time that was for you. Another that captured my heart is "Split-Second Grace," a true story of how God saved a baby's life in the nick of time.
7. You always seem to be working on at least one book, if not more. What is next for you?
My next book will be published in 2014 from Harvest House. Lord, How Did I Get This Old So Soon? A Woman Talks to God About Growing Older. This is a book of conversational prayers to God about the issues we all face as we age. My editor told me it is her favorite of all my books. Nice to hear. I also have a fun book coming out later this year: God Bless My Senior Moments—short, sentence-long prayers about the funny things we do when we hit the senior age group–and I'm not talking about seniors in college!
8. Where can readers go to find out more about you and your books?
I invite readers to visit my website: www.karenoconnor.com where they will find a list of my books and links for ordering them, and to sign up for my weekly blog and quarterly newsletter, if they wish.
Thanks, Joe, for featuring me on your blog. I really appreciate your support.