Our guest blogger this week is Jim Davis, author of the upcoming book, Why Me? (And Why That's the Wrong Question). I met Jim earlier this year at the Blue Ridge Mountains Christian Writers Conference. He was part of a wonderful group of writers who took part in a practicum I taught there, and he was working on a book about suffering. After the conference, he was offered a contract for the book, which will be published next year. On his blog, http://tavbiblestudies.wordpress.com/, Jim is described as "a Sunday school teacher, husband, dad, attorney, college football fan, blues music devotee, and frequent Food Network viewer who writes and teaches Bible studies. He lives in Birmingham, Alabama, with Sonya, his wife of 21 years, and his 13-year-old son Tully." I asked him to tell how his book came about, and I am honored to post his response.
When Life is Unfair, Can I Know God is Good?
by Jim Davis
A member of the Bible Study class I co-teach entered a hospice program this week. Clay,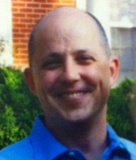 39, fought cancer for years. Now the doctors say that medicine has no more to offer.
What do I say to Clay and his family? When life seems so unfair, can I know that God is good? And if I don't know that, how can I get up in front of the class on Sundays and tell them that His Word is worth studying?
Today I am confident in what I believe, even without all the answers, but that wasn't true when I first started teaching. Situations like Clay's challenged my faith. Like millions before me, I wanted to come to terms with suffering and God's goodness. I started with two questions that I wrote down one evening after a funeral that featured the saddest, tiniest white casket I had ever seen: Why this person and not someone else? And if God loves the hurting person, why doesn't He fix the problem? I didn't know, so I wrote a book.
I did not begin with the goal of writing a book. There was just something I did not understand that I wanted to understand, so I read and researched and prayed and thought until I learned what I could and was at peace with what I didn't know. I decided to write down what I had learned and come to believe. My book is the result of the study I began after the long-ago funeral for a friend's baby.
In the book, I argue that our typical questions about suffering (such as my original two) are not helpful, are not answerable, and have little foundation in Scripture; however, there are other questions we should focus on that point to God and can help us grow during a storm.
That is not at all what I set out to prove. I started out simply looking for answers to my two questions. I found a little helpful information in my initial research, and many unproven theories, but it became clear to me that God does not tell us why a specific bad thing happens to a specific person, or why He intervenes in one situation but not another. And our usual questions seem to be based on wrong assumptions about life and God. Why not me, when the Bible says that everyone suffers in a broken world? Why ask if bad things should happen to good people when the Bible says there are no good people?
So my focus shifted and I began to wonder if we are even asking the right questions. I noticed that while nearly everyone asks "why me" at first, not everyone gets stuck there. The people who avoided bitterness and were actually strengthened by trials were those who moved to other questions: How can this trial help me grow closer to God and more like Christ? How can God be glorified? How can my struggles help me minister to others? And I found that the Bible has a lot to say about those questions.
My study convinced me that finding answers to our questions about suffering is not as important as which questions we ask. To test these thoughts, I prepared Bible Study lessons to present to our group. I never really know what I think about something until I write it down, so I began to convert my lesson outlines to rough essays. At the time, it was for only my own benefit. When I began looking forward to my writing time each day and saw I had accumulated about 25,000 words, I decided to take a shot at putting it all together into a single larger project.
There is certainly no shortage of books on theodicy, but I had never found one that truly spoke to my heart. Maybe there was room for one more, one that approaches the subject from a different angle. I hoped (and still do) that the study that had helped me grow could help someone else. And this doesn't sound very noble, but I had never written anything of this magnitude before and wanted to see if I could do it. So I continued to write and worked on melding the individual parts into a whole.
It did not take me long to realize I knew almost nothing about writing a book. I signed up for a conference to learn about writing and the publishing process. That conference, especially Joseph's seminar, gave me the tools I needed to improve my manuscript and query an agent. Mary Sue Seymour agreed to represent me, and a few weeks ago a company made an offer to publish my book.
I didn't mean to write a book, but I did. I wrote the book that I looked for but could not find. I wrote the book that I wanted to read. Had someone else written it first, it never would have occurred to me to try. Now that I've tried it, though, I like it. There has to be another book I want to read but can't find.