Who am I to take on the voice of Moses, or Joseph, or Joshua, or other people whose stories are told in the Bible?
That question was foremost in my mind when I was asked to write six chapters for an innovative small group curriculum series that brings to life significant figures from the Bible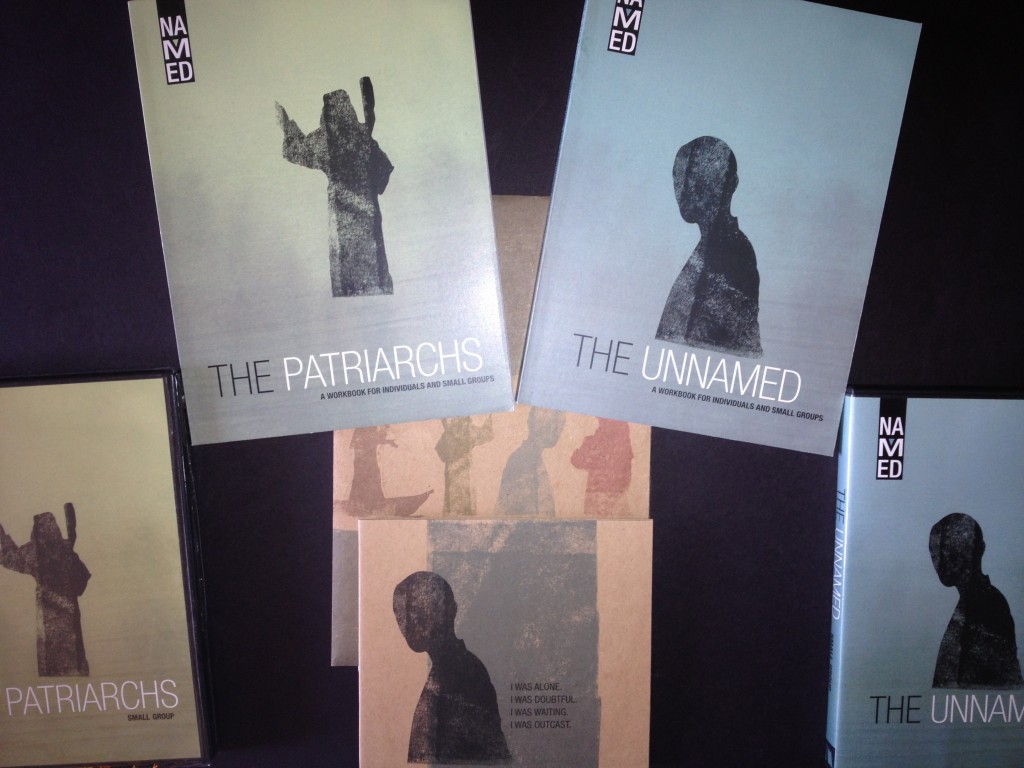 by telling their stories through a combination of historical fiction, biblical commentary, study questions, and audio and video segments.
The series, which is called Named, is divided into four six-week studies: The Patriarchs, The Unnamed, The Disciples and The Women. I was assigned to write chapters for Moses, Joseph, Joshua, Andrew, the Gadarene Demoniac, and the Man Born Blind.
Although I have written four novels, I had never written biblical fiction and had never given much thought to some challenges of that genre:
• The Bible gives stories of these people in a compact, efficient way that leaves out many details. Even with a major figure like Moses, only a few highlights of his life are given, with entire decades left out. For the more obscure biblical figures, such as the Man Born Blind, even fewer details are given, including his name.  As a Christian I believe these people in the Bible are not just stories someone made up, but they were real people. How could I bring these people to life but also be true to Scripture? I had to add details of plot, dialogue, motivation, setting and so on. I faced the challenge of making the stories engaging but also keeping them true not only to the history of the period but also to the spiritual message of the story.
• I had a limit of about 1,500 words for each story. For major figures like Joshua or Moses, that meant I could present only one scene out of many presented in the Bible. How could I choose the one that best captured essence of who each person was?
My approach was to carefully research the various figures through their biblical accounts, commentaries, and books about the historical periods. After that, the stories emerged pretty much the way my novels emerge: I began to see the scenes play out in my head, like little movie clips. As I read about these men, they came to life for me. As I wrote, and even as I went about my daily life, the movies in my head became more and more vivid, until I was able to live the story and "hear" the voice of the person telling it.
I wrote far beyond the word limit for every person, and then I had to relentlessly cut until I got at least close to the proper word count. It was a true privilege to be allowed to delve into the lives of these men and tell their stories. Small groups are now using this material as a way to study Scripture. More information about this series is available at www.iamnamed.com.
Here is an excerpt from one of my stories, "The Man Born Blind":
The Man Born Blind
I had heard rumors about Jesus, none of them good. I heard the authorities almost stoned him for blasphemy, but he slipped away. He was dangerous. He was espousing all kinds of radical ideas. Some even claimed he was of the devil.
Even before I met him, I was skeptical of those malicious stories. I was more inclined toward the rumors that people had the courage only to whisper, like maybe he was a prophet, maybe even the Messiah. He did miracles, healing people and freeing people from demons. As a blind man, I was attentive to anything that even hinted at healing. Nothing I had ever tried had worked, but I still fantasized what it must be like to see.
Most of the Pharisees and other Jewish authorities didn't like Jesus, and all but the bravest people were afraid to cross those powerful men and give Jesus a chance. I didn't like the Pharisees, and they certainly had no use for me, a man blind from birth, which to them meant only one thing: I was steeped in sin. So be it. I stayed away from them, and I stayed away from Jesus. If any of them wanted to give me a few coins, I would be grateful. Otherwise, they were not my problem.
Then came the day when I could no longer avoid Jesus or the Pharisees. As I sat begging in my usual filthy spot by a wall along a busy road close to the temple, Jesus walked right up to me. I don't know why he stopped and focused on me. Most people ignored me. And Jesus certainly had plenty of other things vying for his attention. I heard a big crowd pushing in all around him. I expected the whole big group to pass me by pretty quickly. I hoped only for a coin or two from some of them.
Instead, Jesus stopped, and so did everybody else. I didn't welcome the attention. When any powerful person paid attention to me, it usually meant trouble. They usually yelled at me to get out of the way or move along to a different spot.
Jesus didn't say anything at first, but then one of his disciples, who was probably also confused about why they had suddenly stopped to stare at a blind man, asked, "Rabbi, who sinned, this man or his parents, that he was born blind?"
That seemed like rather a rude question, considering that I was sitting right there, but it was nothing compared to other things people sometimes said. They often talked about me as if I weren't there, as if being blind meant I must be deaf, or at least not very bright.
I expected Jesus to agree with their idea about sin causing my blindness. I've been hearing that all my life. Instead, he gave an answer that I loved. He said, "Neither this man nor his parents sinned, but this happened so that the work of God might be displayed in his life. As long as it is day, we must do the work of him who sent me. Night is coming, when no one can work. While I am in the world, I am the light of the world."
Ha! I wanted to shout. Finally, somebody not blaming me for being blind. I was ready to stand up and cheer him right then! Everybody was talking over everybody else in response to what he said, so nobody bothered to ask me what I thought. And honestly, in my own mind I couldn't get past "neither this man nor his parents sinned." I had no idea what he meant by my blindness happening so that the work of God could be displayed or the part about his being the light of the world.
Before I could think through any of that, he leaned down right in front of me. He spat in the dirt right there by the road and made little globs of mud out of it. Then he reached up and spread it over my eyes. Did he really mean to heal me? Did he have the power?
I hoped that his next words would be, "Now open your eyes and see," but instead he told me…
The rest of this story is contained in the book, The Unnamed, one of four books in the Named series, available at www.iamnamed.com.