It is often said that the Bible is the all-time bestselling book, but it achieved that status in a much earlier publishing era. What would happen if the Bible were submitted as a new book to a publisher today? I imagined how an editor trained in today's publishing realities might respond to it:
Dear Writer:
I have read your manuscript that you are calling "The Bible," and I wanted to offer you a little feedback before I inform you of our decision about whether to publish. I admit that I didn't read all of it, and I frankly doubt that most of your readers would either. I mean, it's looo-o-ong. Do you know the attention span of the average reader today? Will anyone have the patience for this book?
Not only is it long, but the subject matter is rather diffuse, to say the least. This book has poetry, history, biography, theology, prophecy, parables, hymns, proverbs, and probably a few other genres I'm forgetting. Doesn't that seem a bit—overwhelming? Who is your audience?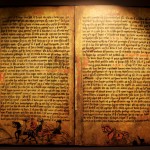 Not to nitpick, but I also have a little trouble understanding your organizational structure. For instance, do you really want to put that hymn book right there in the middle? 150 songs? And those sections you call Matthew, Mark, Luke and John. Aren't those a little repetitive? Have you thought of just combining those into one?
I don't mean to discourage you, but I wouldn't be surprised if quite a few readers are offended by this book. It can be a little polarizing. It's so violent, for one thing. Stonings, crucifixions, wars, a flood, a woman turned into a pillar of salt. For goodness sake, children may read this! And what about that story where the woman drives the tent peg through the man's temple while he's sleeping.? I mean, come on!
I haven't even mentioned all the details about the animal sacrifices. And what's with all those lists of rules in some of those beginning sections? That part you call Leviticus has more information about skin diseases than I ever wanted to know. Gack! And while I'm at it, those genealogies slow down the pace of the manuscript a bit, don't they? What's your strategy there?
I'm not denying that your book contains inspiring stories. It is filled with timeless truths. It presents a vast overview of God's plan of salvation for humanity. It holds the key to eternal life. It contains passages that continue to preoccupy me long after I set them aside. I continue to be moved by the words and actions of Jesus. I am inspired by the stories of Abraham, Moses, David, Elijah, Jonah, Ruth, Mary, Paul, and others.
But I don't know. Our readers today might have a tough time with it. I'm afraid I'm going to have to turn it down. It does not fit our publishing needs at this time.
Sincerely,
The Editor