I have never seen The Lord of the Rings movies and probably never will. Whenever I have mentioned this to anyone, the most common response is, "But they're so good."
The fact that they're good makes me want to see them even less.
Why?
I read the books many years ago, and the experience was so powerful that I walked around for days only partially aware of my own reality. Scenes from those novels played in my mind almost as vividly as my own real memories. I don't want anyone else's scenes to replace the ones in my head, any more than I would want someone's film adaptation of my childhood to replace memories of my actual childhood.
That's why I have stopped going to movies made of books that are really important to me.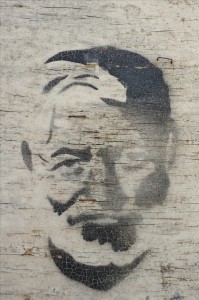 Doing so has usually led to disappointment. The worst examples are movies made from the books of Ernest Hemingway, who is an important writer to me. I have never seen a satisfying movie based on one of Hemingway's better books. The better the book, the worse the movie. If I had never read the books, maybe I could have enjoyed some of those movies, but I regret seeing every one of them.
I watched the Robert Redford version of F. Scott Fitzgerald's The Great Gatsby long before I had adopted this practice of avoiding such films. It is a decent and enjoyable movie, but now I can never read Gatsby without picturing Continue reading →