I loved watching Genius, the new film about the relationship between novelist Thomas Wolfe (Jude Law) and his legendary editor Maxwell Perkins (Colin Firth). At the same time, I wasn't completely satisfied with it.
I admit that this lack of satisfaction may not be entirely the fault of the movie itself. I am a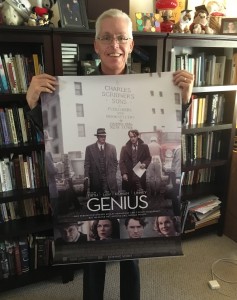 Thomas Wolfe fan and scholar and have loved his work for almost 30 years, so it's possible that nothing less than about a 9-hour movie would have been enough to satisfy me.
Perhaps my overall reaction to the film can best be summed up by a comment I kept making to my wife as she and I sat in a coffee shop right after the movie and discussed our responses. She has not read Wolfe or A. Scott Berg's book on which this movie is based, so as she mentioned scenes that stood out to her and asked if that's what really happened, I kept saying, "Well, yes, but it was more complicated than that."
Any film on this subject would have to oversimplify some things, of course. Perkins became one of the greatest editors of 20th century American literature, as he helped establish not only Wolfe's career but also that of Ernest Hemingway, F. Scott Fitzgerald, Marjorie Kinnan Rawlings, and others. He was a complex figure, as Berg's book, Max Perkins: Editor of Genius, brilliantly shows. Wolfe was equally complex, and the relationship between him and his editor, both when it was working well and when it was crumbling, is hard to capture in any movie of a couple of hours. Throw in other elements such as Wolfe's tempestuous affair with his lover Aline Bernstein (Nicole Kidman), and Perkins' relationships with his wife and daughters, and you have enough material for a min-series rather than a movie.
Still, even though as I watched it I kept thinking, "Wait, slow down, there's more to show about that incident," I still enjoyed the movie overall and strongly recommend it. Here are a few moments that stand out:
• The opening 10 minutes alone made are worth the price of the whole movie for me. An editor plops the huge manuscript of Wolfe's O Lost (which would eventually become Look Homeward, Angel) onto Perkins' desk and asks him to read it. Perkins promises to give it a quick look, but in the following minutes, as we hear voice-over passages from the book, Perkins is mesmerized by the novel over the next few days as he rides the train, ignores the greetings of his family at home, or sits at his desk and combs through page after page. The beauty of the writing itself is what Perkins was masterful at recognizing, and this scene captures it.
• Colin Firth gives the best performance in the film. He embodies Perkins' reserved but in-control personality that served him so well as an editor and that comes through so forcefully in Berg's book. Perkins was able to modulate his responses to the needs of the very different personalities of his authors. He did not participate in the foibles of those men, but he didn't turn away from them because of those flaws either. He was the true father-figure, strong and steady.
• Even though some of the factual details of how Wolfe and Perkins worked together on Of Time and the River are altered, the film brings to life the creative collaboration of these two men as they spend hours arguing and editing and wrestling the manuscript into shape.
• Even some of the small moments make the film memorable—stacks of Look Homeward, Angel appearing in the bookstore window at the novel's release, Perkins reading the book to his daughter when she misses Tom, the moving reading of Wolfe's final letter to Perkins (even though some details of its composition and delivery are altered).
For many of us who love Wolfe's writing, our hope has been that this film would bring Wolfe the renewed attention we think his work deserves. We hope readers will want to go out and read one of his novels. I believe this movie may have that effect. As the film ended, I heard a woman behind us tell her friend she hadn't read any of Wolfe's novels, but she sounded as if she wanted to. I hope she does. I was ready to go home and read one of them again myself.