Our guest blogger this week is Jim Davis, author of the upcoming book, Why Me? (And Why That's the Wrong Question). I met Jim earlier this year at the Blue Ridge Mountains Christian Writers Conference. He was part of a wonderful group of writers who took part in a practicum I taught there, and he was working on a book about suffering. After the conference, he was offered a contract for the book, which will be published next year. On his blog, http://tavbiblestudies.wordpress.com/, Jim is described as "a Sunday school teacher, husband, dad, attorney, college football fan, blues music devotee, and frequent Food Network viewer who writes and teaches Bible studies. He lives in Birmingham, Alabama, with Sonya, his wife of 21 years, and his 13-year-old son Tully." I asked him to tell how his book came about, and I am honored to post his response.
When Life is Unfair, Can I Know God is Good?
by Jim Davis
A member of the Bible Study class I co-teach entered a hospice program this week. Clay,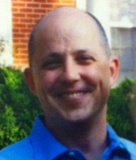 39, fought cancer for years. Now the doctors say that medicine has no more to offer.
What do I say to Clay and his family? When life seems so unfair, can I know that God is good? And if I don't know that, how can I get up in front of the class on Sundays and tell them that His Word is worth studying?
Today I am confident in what I believe, even without all the answers, but that wasn't true when I first started teaching. Situations like Clay's challenged my faith. Like millions before me, I wanted to come to terms with suffering and God's goodness. I started with two questions that I wrote down one evening after a funeral that featured the saddest, tiniest white casket I had ever seen: Why this person and not someone else? And if God loves the hurting person, why doesn't He fix the problem? I didn't know, so I wrote a book.
I did not begin with the goal of writing a book. There was just something I did not understand that I wanted to understand, so I read and researched and prayed and thought until I learned what I could and was at peace with what I didn't know. I decided to write down what I had learned and come to believe. My book is the result of the study I began after the long-ago funeral for a friend's baby.
In the book, I argue that our typical questions about suffering (such as my original two) are not helpful, are not answerable, and have little foundation in Scripture; however, there are other questions we should focus on that point to God and can help us grow during a storm.
That is not at all what I set out to prove. I started out simply looking for answers to my two questions. I found a little helpful information in my initial research, and many unproven theories, but it became clear to me that God does not Continue reading →