After 55 years of waiting for a follow-up novel to Harper Lee's classic, To Kill a Mockingbird, readers finally have the new book in their hands, and many are shocked by certain elements of it. The most unpleasant surprise in Go Set a Watchman for many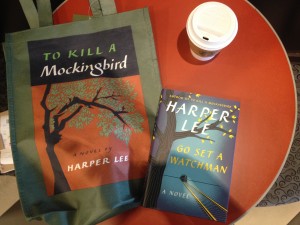 readers is that the beloved Atticus Finch, one of the great American literary heroes of integrity and justice, is an aging racist in the new book.
I spent the entire day reading Go Set a Watchman, but rather than do a typical review, I want to focus on four issues I think are being ignored in the early reviews and discussions of this novel.
1. I believe it is a mistake to see Atticus Finch as simply older and more racist than he was in Mockingbird. Instead, I think he is essentially a different character in Watchman than the reconceived Atticus in Mockingbird. In other words, there are two Atticuses, created by the author to fit the needs of the particular book.  
Why is Atticus Finch so different in Watchman than he is in Mockingbird? The publication history of the two novels is crucial in answering that question. Lee submitted Watchman to her editor in the 1950's. The editor, enjoying the childhood flashbacks the most, urged Lee to write a novel set 20 years earlier, focusing on those elements of the story. In doing so, I believe Lee created an alternate version of Atticus Finch. He is a different character in Mockingbird than in Watchman, though carved from the same materials.
Mockingbird and Watchman are not really sequels or prequels to one another. They are separate treatments of the same core material. Even the outcome of the trial that is central to Mockingbird is different when it is referred to in Watchman. Lee never expected to publish both books. She did not need to keep the characters completely consistent between the two books. She had the freedom to adjust the characters to meet the needs of the particular book. One implication of this for readers is that if they don't like the Atticus in Watchman, that doesn't need to "ruin" the Atticus in Mockingbird for them. They can choose whichever conception of the character they like best.
The Scout character in Watchman, who is more commonly called Jean Louise, also strikes me as significantly different from the Scout character in Mockingbird. It's not simply that she is twenty years older in Watchman, it's that I don't think she is simply a grown-up version of the Mockingbird Scout. She is a reconceived character. She is not radically different in the two books, but different in ways that novelists often change the personalities and other traits of their characters in later drafts of the stories.
2. If Harper Lee had written Go Set a Watchman now instead of in the 1950's, I think there would be an even greater outcry against it from readers.
If we didn't know that Lee wrote Watchman before she wrote Mockingbird, then I think the changes in the character of Atticus Finch would be even harder for readers to accept. If Watchman had been written in the 21st century, I think readers would have protested it as a cynical modern treatment of a beloved 20th-century American hero. Why, they would have complained, did Lee turn the justice-loving man of integrity of Mockingbird into the racist cranky-old-man of Watchman?
As it stands, I find it fascinating that Lee saw that the character could be written as both of those men. The relationship between Scout and Atticus is more complicated in Watchman than it is in Mockingbird, but what is fiction for if not to shed light on such intricacies of human motivations and relationships? We have had 55 years of Atticus as an unblemished saint. Now we also have him as a fascinating and contradictory man of his times.
3. Go Set a Watchman is not only about race. Its brilliance extends to other areas that are not getting enough attention.
Much of what I have read in reviews and on social media about Watchman has focused on the racial issues the book raises, but when I read the novel, many other elements of it also stood out to me. Like Mockingbird, this novel richly captures small-town Southern life in the middle of the twentieth century. It brings to life the feel of what it is like for Jean Louise to return from living in New York City and be thrust into the family life, church life, and social life of the place she grew up in. Lee is a masterful storyteller who uses humor and passion in creating vivid, memorable scenes.
One of my favorite chapters appears about two-thirds of the way into the novel, when Jean Louise's Aunt Alexandra hosts "The Coffee," a reunion of Jean Louise's former classmates and other women of the town, almost none of whom Jean Louise wants to see. The social satire of this gathering targets the way the women dress, the way they chatter on about their husbands and children, the way they reveal their prejudices, and other details of Southern life. It is beautifully handled and worth reading the novel for. It shows that Lee was a masterful novelist of manners, among her many other gifts as a writer.
4. The release of Watchman reveals that Lee owes her editor a big thanks for compelling her to set aside this book and write Mockingbird instead. Watchman is a good book, but by itself, it would not have become a classic.
Most readers' first encounter with To Kill a Mockingbird is in a high school literature class, where it has been a standard text for decades. The book has all the features that create a beloved classic—a compelling young narrator who shows courage, grit, and humor in confronting challenges young readers can relate to, a plot that offers conflicts that are universal in scope, a memorable setting, an engaging writing style, and other elements.
Watchman is also an entertaining and well-written novel, but it is much more targeted toward adults. I believe that if it had been released first instead of Mockingbird, it would have enjoyed some success and then gradually faded into the literary background. Lee's editor's instincts were correct in pushing the author to bring to the forefront Scout's earlier story. This shows the crucial and often overlooked role editors play in the creation of literature.