In this era when authors are expected to spend much of their time seeking the approval of readers—by "building a platform," doing blog tours, conducting interviews, and praying for 5-star Amazon reviews—it may be helpful to look at how writers of an earlier generation used opposition to their work to make themselves better writers.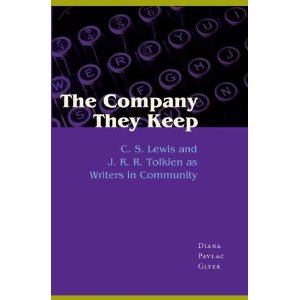 My friend and colleague Diana Glyer wrote a remarkable book called The Company They Keep: C.S. Lewis and J.R.R. Tolkien as Writers in Community (Kent State UP, 2007). It analyzes the ways the group of writers known as the Inklings influenced one another. This group, which included Lewis, Tolkien, Charles Williams, Owen Barfield, and others, met regularly for seventeen years to read and critique each other's work. Much of the influence these friends had on one another was positive and friendly, as they supported each other as resonators and collaborators, and as they promoted each other's books through reviews and by other means.
But my favorite chapter of The Company They Keep is chapter 4, entitled "Opponents: Issuing Challenge." I urge you to read it for yourself to get the full treatment of some of the fascinating encounters among these authors, but here I want to highlight a few things I learned as a writer about the value of Opponents.
"Oh, God, no more Elves!"
Can you imagine the privilege of sitting in a room and listening to J.R.R. Tolkien read from a draft of The Lord of the Rings? How would you like to relax by the fire and hear C.S. Lewis read a work-in-progress called The Screwtape Letters? That's what the Inklings got to do, but they weren't always happy about it. Tolkien, for example, didn't like The Screwtape Letters. He was embarrassed that the book was dedicated to him. He also didn't like The Lion, The Witch and the Wardrobe, the early draft chapters of which Lewis read to him. He thought the book was "about as bad as can be" (qtd. in Glyer 86). Lewis felt stung by this unexpected negative reaction from his friend.
Tolkien himself endured the disapproval of other Inklings for some of his work. Some in the group couldn't stand The Lord of the Rings, which Tolkien read to them in pieces throughout the many years of its composition. One Inkling in particular, Hugo Dyson, hated it so much that Christopher Tolkien describes a meeting this way: "And The Lord of the Rings would begin with Hugo lying on the couch, and lolling and shouting and saying, 'Oh God, no more Elves' "(qtd. in Glyer 86).
No Book WIll Satisfy Everyone
These scenes surprise me but also strangely comfort me. My first response is, how could anyone hate The Screwtape Letters or the Narnia books or The Lord of the Rings? As someone who loves those books, I think, what else could any reader want? Especially if they were written by your friend?
Yet I know that no book, no matter obviously good it seems to some readers, will please everyone. If you are a writer, take solace in that. No matter how good your book is, some readers won't like it, and some will be actively hostile to it. If The Lord of the Rings can't satisfy a reader, for heaven's sake, then what chance does your book have of satisfying everyone?
How to Respond in the Face of Opposition
Faced with opposition from people they respected, Tolkien and Lewis had to decide whether to continue with these works-in-progress or abandon them. The decision to continue sounds like a no-brainer now that we know these books have become multi-million-copy international bestsellers. But as Diana Glyer has pointed out to me, at the time the Inklings were meeting, these men didn't know they were "Lewis" and "Tolkien." In other words, they weren't celebrity writers with a worldwide following. They were two men trying to figure out where their writing abilities could best be used. Plenty of people who knew them would have thought setting aside these works was a good idea.
Tolkien kept writing, but he stopped reading from The Lord of the Rings manuscript whenever Dyson was present. As for Lewis, he already felt insecure about the worth of The Lion, the Witch and the Wardrobe as he was writing it, and Tolkien's harsh response only exacerbated those doubts. Glyer writes that "if Lewis had considered Tolkien's response alone, the whole project might have been abandoned after just two or three chapters" (86). He didn't listen only to Tolkien, thankfully. He got feedback from others. He kept working. Tolkien never changed his mind about these books, but millions of other readers are glad Lewis kept at it.
Using Opposition to Become a Better Writer
Glyer points out many ways in which the Inklings welcomed opposition from one another and used it to make themselves better writers. They didn't seek approval from one another for its own sake. They wanted honest feedback presented in a forthright manner. Their works are better because of the ways they challenged each other. Glyer gives examples of how the various writers in the group abandoned flawed manuscripts or rewrote them because of opposition. Some of their discussions of manuscripts and ideas went on for months or years, as the writers strengthened their arguments and articulated them more clearly. Despite their literary disagreements, they remained friends. They didn't do any of this perfectly. Feelings were hurt and lines of appropriate behavior were sometimes crossed. But in our time of Facebook "Likes" and endless hype, it is refreshing to read of opposition being put to such good use.
Related Content
Dr. Diana Glyer recently gave an interview about The Company They Keep to William O'Flaherty. The podcast of that interview is available here: http://allaboutjack.podomatic.com/entry/2012-06-10T20_47_00-07_00.