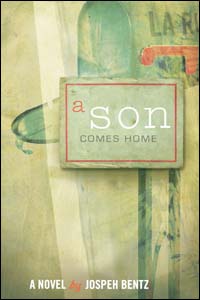 It took the news of his father's illness to bring him home for the summer. After fleeing Indiana following the tragic death of his idolized older brother, Chris LaRue struggles to set aside his bitterness and instead renew the fragmented relationships abandoned two years earlier. But he discovers that his brother's presence still echoes through the house and time has not healed the wounded.
Battling a deep sense of loyalty to his brother, Chris tries desperately to patch together his family. But new challenges rock its foundation and threaten to undo their fragile progress. Chris yearns for a future free from the pastówill it require revealing the betrayal his brother took to the grave?
In his novel, A Son Comes Home, recently republished by Randall House Publications, Joseph Bentz brings to life the compelling story of a family's to turn tragedy into hope and despair into restoration.
Critical Acclaim for A Son Comes Home:
"a thoughtful re-examination of lessons found in one of Jesus' most inspiring stories, the parable of the prodigal son." – CBA Marketplace
"tackles some very delicate topics that many writers might avoid... interesting and realistic, and it contains good lessons for teens and adults alike." – Christian Library Journal
Chosen as one of the Top Ten Christian Novels of the Year by Booklist magazine
Winner of the Silver Angel Award
Chosen for the Guideposts Book Club
Selected for dramatization that was broadcast nationally by Page Turner Radio Theater
---
A Son Comes Home in the Literature Classroom
A Son Comes Home is ideal for use in the literature classroom. A number of instructors have successfully used it in their courses. Here is what a few of them have said:
"A Son Comes Home is a perfect study in key narrative terms like point of view, voice, plot, character, and pacing. That's what first attracted me to it. But I keep hearing from my students that this is the first work of fiction they have ever read that kept them totally interested and still made them think. That's why I can't imagine teaching the class without it." – Dr. Diana Glyer; Professor of English; Azusa Pacific University, California
"I teach a course for seminary students about reconciliation. I love using A Son Comes Home because of how well it paints the myriad conflicts and complications within families. The scene of reconciliation within the church brings tears to my eyes every time I read it, and my students accuse Joseph Bentz of keeping them awake at night, because they cannot put the book down!" – Dr. Laura K. Simmons; Assistant Professor of Christian Ministries; George Fox Evangelical Seminary, Portland, Oregon
Free teaching materials, including discussion questions, class activities, paper topic ideas, and other material are available for you to download.
Purchase copies of A Son Comes Home for your class.
The author has spoken to a number of classes about A Son Comes Home and may be available to speak to your class either in person or by speakerphone.
---
A Son Comes Home in Book Clubs
A Son Comes Home may be an excellent novel for you to choose for your book club. If you plan to ask your book club to read it, you may benefit from some of the questions and activities listed in the teaching materials download on this website. While some of the material may be targeted more toward students than book club members, some of it would work for either audience. In addition, the questions presented below may provide a good starting point for your group's discussion of the book.
Book Club Questions for A Son Comes Home are available free to download.
The author may be available to speak to your book club by speakerphone.
Purchase a copy of A Son Comes Home.