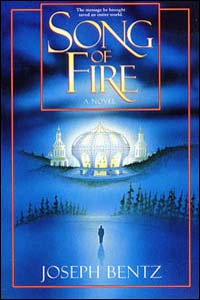 Through the breaking ice, in a vortex of brilliant light, energy, and sound, Jeremy plunges into a mysterious new world.
It is a world where music is absolutely prohibited–on pain of death. And Jeremy breaks that law when he arrives in Persus Am in a swirling cloud of light and music. A stranger in a strange land, he does not know why he has been sent here. But it soon becomes clear that he must risk everything to help his new friends in this weary and war-torn world.
From the Gray Desert to the jeweled palace of Persus Am, the forbidding Rock of Calad to the fabled land of Caladria, Jeremy finds himself in the midst of horrifying evil and heroic goodness. As he searches for an answer to why he is here, he must face the truth that is written on his own heart.
Song of Fire is a powerful tale of the triumph of good over evil, and healing love in a fantastic world that feels as real as the one we live in.
"Bentz uses words the way a builder uses bricks or a jeweler uses valuable stones. There is no excess. Each word is carefully placed. . . .With Song of Fire, readers have a rare opportunity to read and enjoy a book that their children's children may discover with the same sense that the book is something special. I can't resist: I think that readers of Song of Fire are experiencing the birth of a classic." – Christian Book Review
Thomas Nelson, 1995, ISBN: 0785278826
"An exceptional fantasy." – Booklist
"Captivating. . . .well-written, with believable characters that can quite easily become real to the reader." – Dusk and Dawn
Purchase Song of Fire