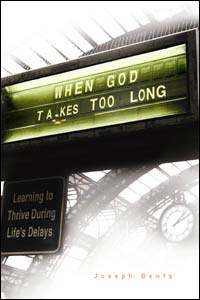 One of the greatest frustrations of the Christian life is having to wait for God to act. We wait, sometimes for years, for our prayers to be answered, for our deepest longings to be fulfilled.
Some devoted Christians get stuck in dead-end jobs even though they feel certain they could serve God in greater ways if only He would open the opportunity. Why doesn't He? Some wait for a godly spouse, some couples wait for the gift of children, and some, who have dedicated their lives to serving the Lord, wait in disappointed bafflement as their work seems to yield no fruit. Why?
As Christians, we yearn to serve the Lord, to step forward and obey Him like the great heroes of the Bible, but we are confused, waiting for clear orders, kept at a distance by the invisible barriers of God's silence, His inaction, or His unhurried pace.
In When God Takes Too Long, Joseph Bentz examines the mysteries of God's timing and shows Christians how to thrive in the midst of one of life's greatest frustrations–waiting. He offers those who have been discouraged by a life of waiting a chance to alter not only their perspective on waiting, but also their actions in response to it, transforming this frustration into a positive force that will enrich and change their lives.
When God Takes Too Long addresses:
How not to wish (or wait) our lives away
How to better understand the nature of time
How to master the discipline of waiting
How to cast off the boundaries of time to view our lives from an eternal perspective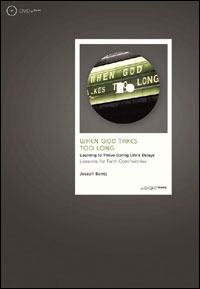 Also available in Book + DVD combo package, for use in small groups
This resource includes a copy of the book and a DVD containing six video lessons in which the author introduces various chapters. It is ideal for use in small group studies. The DVD contains a printable Leaders Guide containing questions and other activities for groups to use.
What others are saying about When God Takes Too Long:
"Joseph Bentz's message clearly outlines the benefit of waiting on God, and the stark reality of seeking understanding during the journey. In a world in which people write more than they reflect, it's refreshing to find a text that represents the author's firsthand struggle to find answers. In a style that mixes Randy Alcorn's informed passion and John Ortberg's poignant practicality, contemporary and biblical stories merge to articulate the principles of waiting effectively." – Dr. Jerry Pattengale, author of Str8T@lk: Clear Answers about Today's Christianity, speaker, academic administrator, Indiana Wesleyan University
"Recently life has really thrown my wife and me some hardships, and from reading Joseph Bentz' book, we have found a new strength and understanding of what God is doing in our lives. Those who read When God Takes Too Long will deepen their walk with Christ and gain a new perspective of God. Bentz is a gifted writer. – Brian Reed Garvin, Film Director and Producer, Purity Productions, Arcadia, California
"One of the most important issues that our university students deal with is that of knowing God's will for their lives. Joseph Bentz does an outstanding job fleshing out biblical principles of what it means to actively wait on God, trust his timing and embrace his methods. These insights of waiting on God will assist and encourage anyone who is genuinely seeking after God. This will be a book I highly recommend for individuals and for our discipleship groups here at APU." – Mark Sanford, Instructor in Practical Theology, Facilitator of Discipleship Groups, Azusa Pacific University
"Waiting is a matter of faith, hope, obedience, and trust. Through relevant examples, both biblical and contemporary, Joseph Bentz offers a practical, accessible, and clear discussion of time from an eternal perspective. The chapter illustrations and questions challenge readers to confront their impatience and misconceptions in light of God's purposes." – Paula Miller, freelance writer and English professor, Biola University
"In an age where daily living seems to have an unprecedented and accelerated urgency, Joseph Bentz effectively calls us to an altered understanding and practice–the reality of paced living in God's story rather than attempting to fit Him into our stories." – Dr. Dick Pritchard, Chair, Department of Practical Theology, Azusa Pacific University
---