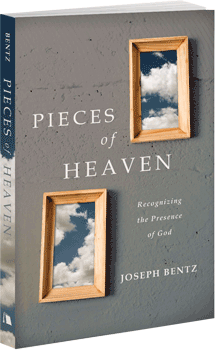 Most Christians don't intend to quench the Spirit. They wantGod's presence in their lives, but they end up ignoring him anyway. Why?
In an increasingly secularized and frenzied culture, it's easy to leave God out of our conversations and thoughts—at work, at school, in social settings, and unfortunately sometimes even at church. But our lives can be transformed when we remove him from that small place on the shelf where we sometimes keep him and let him permeate our lives—our work, our play, our music, our relationships, our long walks, our mealtimes, our times of fear, our journeys through suffering.
Pieces of Heaven: Recognizing the Presence of God seeks to heighten the reader's awareness of those times when the veil between us and eternity—between us and the Holy Spirit—seems thin and permeable and we sense the Spirit in a close and supernatural way.
This book may awaken readers to God's presence in the many places where we have ignored Him. If we open our eyes, we will see him in our relationships, not only with those we love, but also in those who cause us problems. His Spirit is powerfully present in music, in nature, in the intellect, in prayer, and in Scripture. He also manifests Himself at rare times in more unusual ways, in powerful revivals, in people's encounters with angels, or in the moments before death. The world we live in tries to snuff out God's presence, but he keeps pushing toward us if only we pay attention.
When people quench the Spirit and shut God out, they don't leave a blank space in their lives where His Spirit should be. Instead, they fill it with something. The world is full of counterfeits that people use as replacements for God. People who serve false gods almost never identify them as such. Some people give themselves over to these gods entirely, while others try to squeeze the false gods into a comfortable spot next to the real God. What can serve as a stand-in for God? Ambition? Wealth? Video games? Sports? The list is endless. In awakening readers to the life-transforming presence of the real God, this book seeks to initiate or renew a joyful relationship with Jesus Christ.
Critical Acclaim for Pieces of Heaven:
---
"This is a book for anyone who has ever asked, 'God, are you there?' Joseph Bentz helps us turn the question around so that the question becomes a declaration: 'God, you are everywhere!'" --
Dean Nelson, professor, Point Loma Nazarene University, author of God Hides in Plain Sight: How to See the Sacred in a Chaotic World
"Joseph Bentz has a gift for seeing the Holy Spirit ordinary places. Let this book open your eyes to the God who is at work all around you." --
Lawrence W. Wilson, author of When Life Doesn't Turn Out the Way You Expect and Why Me? Straight Talk about Suffering
"Joseph Bentz is right…sometimes it's hard to recognize the presence of God. In his insightful book, Joseph Bentz peels back the mystery surrounding why we overlook God's presence in our life, and more importantly, how we can recognize it. This book is a must for everyone who's ever longed to experience more of God." --
Donna Jones, Pastor's Wife, National Speaker, and author of Seek: A Woman's Guide to Meeting God
Pieces of Heaven Ideal for Small Group Study
One feature of Pieces of Heaven: Recognizing the Presence of God is that it is designed for individual or small group study. A free downloadable study guide is available that will lead individuals or groups through a six-week study of the book with activities and questions. For groups that are interested, the author sometimes joins in the discussions of his books by speakerphone or other methods. If you are interested in the author's participation in your group study, contact Joseph for more information.
Purchase copies of Pieces of Heaven for your book study.
The author has spoken to a number of classes about Pieces of Heaven and may be available to speak to your class either in person or by speakerphone.
---