Nothing is Wasted: How God Redeems What is Broken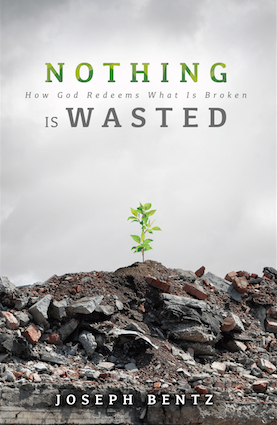 Redemption is so important to God that He has scattered hints of it throughout the universe. A quick glance at the world may reveal more trouble than redemption. Terrorists blow up innocent children. Disease sweeps through poor nations and wipes out hundreds, their bodies tossed aside. Politicians posture, blame and ignore intractable problems.

Life may be seen as a series of losses. We lose loved ones, our youth, our decaying possessions, and eventually our lives. Despite this pervasive pattern, a countervailing force remains at work in the world. In the midst of all this loss beats a relentless pulse of redeeming love and good that thrusts itself through the chaos and pain. It does not obliterate the pain, but neither does it allow the pain to be wasted. It wrenches good from it, like a gold nugget pried from deep underground.

Nothing is Wasted finds hints of redemption in the least expected places - in dirt, in whale carcasses, in death, in suffering, in fairytales, in frustrations, and in the stories of people's lives..

Critical Acclaim for Nothing is Wasted:

"The world got a little bit brighter after reading Nothing is Wasted. Thank you Joseph Bentz for plugging a missing hole in contemporary Christian teaching - balance in tragedy, and finding hope without glossing over difficulty."
--Pastor Jake McCandless, Mount Vernon Baptist Church, Mount Vernon, Arkansas

"This invaluable book is for anyone who has ever questioned why life is so painful, chaotic, and messy. Joseph Bentz powerfully unveils God's continuous thread of redemption that is woven throughout the complicated and broken tapestry of our frayed world."
--Pastor Ed Simons, South Central Ohio Nazarene District

Nothing is Wasted Ideal for Small Group Study

One feature of Nothing is Wasted is that it is designed for individual or small group study. A free downloadable study guide is available that will lead individuals or groups through a six-week study of the book with activities and questions. For groups that are interested, the author sometimes joins in the discussions of his books by Skype or other methods. If you are interested in the author's participation in your group study, contact Joseph for more information.

Purchase copies of Nothing is Wasted for your book study.

The author has spoken to a number of classes about Nothing is Wasted and may be available to speak to your class either in person or by Skype or similar methods.