I have never seen The Lord of the Rings movies and probably never will. Whenever I have mentioned this to anyone, the most common response is, "But they're so good."
The fact that they're good makes me want to see them even less.
Why?
I read the books many years ago, and the experience was so powerful that I walked around for days only partially aware of my own reality. Scenes from those novels played in my mind almost as vividly as my own real memories. I don't want anyone else's scenes to replace the ones in my head, any more than I would want someone's film adaptation of my childhood to replace memories of my actual childhood.
That's why I have stopped going to movies made of books that are really important to me.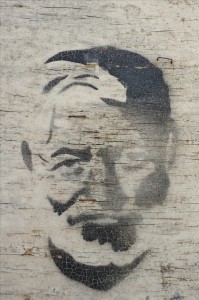 Doing so has usually led to disappointment. The worst examples are movies made from the books of Ernest Hemingway, who is an important writer to me. I have never seen a satisfying movie based on one of Hemingway's better books. The better the book, the worse the movie. If I had never read the books, maybe I could have enjoyed some of those movies, but I regret seeing every one of them.
I watched the Robert Redford version of F. Scott Fitzgerald's The Great Gatsby long before I had adopted this practice of avoiding such films. It is a decent and enjoyable movie, but now I can never read Gatsby without picturing  Robert Redford and Mia Farrow and all the others in their various roles. I wish I could set aside that version and read the book fresh, but I can't.
I recently read that HBO is planning to develop a series of films based on the novels of William Faulkner. I am very nervous about this. I teach As I Lay Dying every semester, and I do think it would make a good movie. I could make a movie of it myself if it were possible to directly transfer my mental images onto the screen. I see the oldest son, Cash, lifting up each board for his mother's inspection as he slowly builds her coffin. I see the wagon carrying the family into town, vultures swirling around the smelly coffin as Cash sits nearby, his damaged leg patched with cement. The movie is all there in my head, but since I can't simply download it, I don't want to replace it with someone else's version. So I won't see the film.
I do make exceptions with some books and films. For example, I enjoy John Le Carre's spy novels, but I don't mind watching movies made of his books. His novels are fun and entertaining, but they are not the soul-shaking, core-of-my-being kind of books that stick with me for years. The Tailor of Panama, for instance, was a worthwhile but minor movie, and I would say the same for the book.
I realize I may be missing out on some excellent movies by following this practice, but for me, some mental images are worth protecting.