I'm tired of hearing about the "Everybody Gets a Trophy" generation. When I recently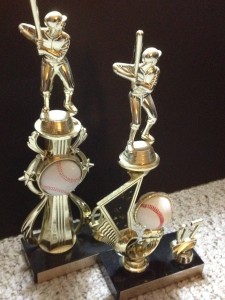 heard someone use that phrase again, I wondered, was it just my imagination, or were people constantly using that cliché to describe today's generation in their teens and twenties?
I Googled "everybody gets a trophy" and came up with nearly a million articles, blogs, news stories and other items that use the phrase, so I guess I'm not imagining it. I read through some of the endless news commentaries and blog posts about this "syndrome," as some of them call it, and I ended up even less convinced about it than I was before.
The basic concept is this: These young people are the spoiled products of a self-esteem culture in which they (or at least their parents) are afraid of failure. In order to prevent these delicate egos from facing any hint of mediocrity or failure, their parents put them on soccer teams and baseball teams and other activities in which everybody gets a trophy regardless of any lack of talent, achievement, or actual victory over the other team.
Because of this, the kids grow up thinking they're far more talented than they really are, and they expect unqualified approval in every area, from academics to sports to the world of employment. Coddled and arrogant, they fail to learn how tough life really is. Their weakness of character erodes our entire culture, but someday they're in for a rude awakening.
What utter nonsense.
As a college professor, I have spent years interacting with people in this generation. As a parent of teenagers who play sports, I have spent years watching what happens with the trophies. I simply don't buy the usual "everybody gets a trophy" analysis.
Let's start with the trophies themselves. My son and daughter have played on many teams in several different leagues over the years. They have played competitive softball, baseball, basketball, football, soccer, and probably a few other sports I'm forgetting. They do get trophies in most of those, or medals, which amount to the same thing. On most of the teams it is true that everybody gets one of these, win or lose. The trophy or medal is bigger or better if the team wins the championship, but everybody gets something regardless of the outcome.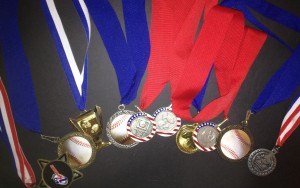 The thing is, kids are smart about these things. I have never seen my kids or any of the other athletes interpret these medals or trophies as signs that they are all winners or that the loss of a game or championship is somehow not a failure. They understand failure. They know who the good players are and who the bad players are. If they're not as good as the other athletes, it certainly doesn't take the withholding of a trophy to make that clear to them. They know. Their teammates will make it clear to them in many ways, and so will the coaches, and so will the spectators. It's absurd to think that a trophy or lack of a trophy changes that.
What, then, is the purpose of giving a medal or trophy to everyone? My own kids have their medals hanging in their rooms and the trophies are displayed on shelves around the house. These are not signs of egotistical triumph. They are mementoes of being on the team. My daughter also has her softball caps from her various softball teams displayed on the wall on one side of her room. They're a way of remembering the experience.
I once worked at a magazine devoted to the sport of trapshooting. At a national tournament, I worked at the booth where we gave out metal pins that commemorated the event. Most tournaments gave out such pins, and competitors would attach those to their caps or shooting jackets as a way of showing how many tournaments they competed in. They were eager to get those pins, and when we ran out of them one day, they were angry until we got some more. They were meaningful, but they did not signify success. They were simply a souvenir. That's the way it is with the trophies.
The men and women who coached my kids were certainly not interested only in the athletes' self-esteem. They worked them hard. They taught them. They punished them. They encouraged them. They wanted them to win. My kids have plenty of trophies, but they have also tasted plenty of failure.
Regardless of what generation we're in, life offers abundant lessons on how to handle failure. I wouldn't be too worried about a few extra trophies being handed out.