Let me start with Facebook as an example of a technology that people now consider optional. I know plenty of people who still don't use it. Some never have, and a few eccentrics I know had Facebook accounts but gave them up. Will they always have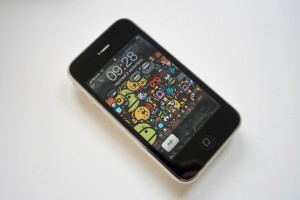 that choice, or will Facebook, like various other technologies, someday become essentially a requirement for functioning in the world?
After attending and presenting a paper at a three-day conference this week at Baylor University called "Technology and Human Flourishing," I've been pondering the ways in which technology runs my life. Even though the conference included many amazing examples of new things technology can do, the speakers expressed at least as much anxiety about technology as celebration of it. I want to devote a few posts to technology's influence, both good and bad.
The first area I want to consider is how much Choice I have—or don't have—about which technologies control me. I like to think I'm a careful consumer of technology and that I choose which gadgets and services will dominate my time, energy and attention. I like to think I am not a slave to it, but is freedom from slavery to technology realistic anymore?
When Technology Was Still Optional
In one sense, I have chosen each technological device and service I use, and I could get rid of them any time I like. Unlike people of a younger generation, I still remember living in a world before such advances as email, voice mail, cell phones, texting, the Internet, Facebook, ipods, VCR's and similar inventions. I remember when computers were not considered a necessary tool in either the workplace or the home.
I also remember making the conscious choice to bring some of these technologies into my life. My standard response to new technology has been to resist it at first, insisting that I don't need it and never will, and then to reluctantly embrace it. After that, I don't see how I ever lived without it.
When I was first hired to teach at Azusa Pacific University in 1991, for instance, email existed but was not commonly used. The university did not have an email system of its own, so if you wanted it, you had to make your own arrangements. They didn't even provide faculty members with computers. You had to make your own arrangements for those too. I resisted email for a couple years, telling people that I didn't see why I needed it and didn't think I ever would. If I wanted to write to someone, I reasoned, I could simply write them a note. Now, a little over 20 years later, much of my day is taken up with sending and receiving emails. My office phone rarely rings. My physical mailbox rarely has anything in it. Most communication for my life as a professor, a writer, and many other roles happens by email.
What If I Opt Out?
Do I still have the choice to either use email or not use it? If I gave it up, the consequences would be severe. I probably would lose my job because so much crucial information comes only in that form. I would also lose contact with my publisher, with organizations I am part of, and with many other people who are important to me. Essentially, I no longer have a choice about email. It is a necessity.
What about online activity in general? What if I decided I didn't want to spend so much of my day looking at a computer screen and chose to not do anything online? Once again, the consequences of such a choice would be dire. Some of my online activities are still a choice—online banking, Facebook, news and entertainment sites. But other activities, including crucial ones for keeping my job, are required. I turn in grades online, submit evaluation documents online, order textbooks online, do academic advising online, and many other things. As a writer, much of my life also happens at a screen. So while I technically could choose to stay offline (just as I technically could choose never to wear clothes or never pay taxes or never live indoors), the costs would be enormous. I essentially am enslaved to these technologies that used to be optional.
Some might say, so what? These technologies are good things. Who cares if you're enslaved to something as long as it's good? I will reflect on that question in another post. In the meantime, I invite you to offer your own perspectives.